It was nineteenhundredthirty-six –
the original was invented by Reon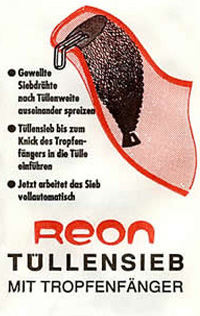 The historic flat bag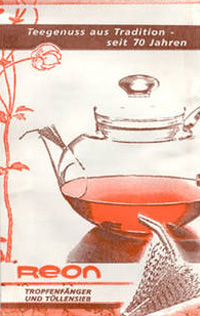 The new flat bag
The
Reon® Spoutfilter
was developed in 1936. It is suitable for all beverages poured from the spout, either hot or cold.
The
Reon® Spoutfilter
is manufactured in pure handcrafting. An independent German laboratory watch about our height quality standarts of producing and hygiene, in the context food and consumer article law for the protection of health and the protection from deception.
Easy to use
---
You can use the
Reon® Spoutfilter
with every spout from 8 till 20mm. For more instructions, please watch our movie.
The
Reon® Spoutfilter
is easy to clean, stainless and dishwasherproof. For the first use, please clean the spout filter with hot water.
Please be carefull: The
Reon® Spoutfilter
is sharp edged and if your are not carefull, perhaps you will get violations! The sput filter can be swallowed. Therefore, prevent it for childrens or animales! For inappropriate or misused handling we do not take any warranty!